Barriers is a collection of created objects replicating the shapes and structures of the city grid, fencing around empty lots and construction sites, and the lego-like form that new and cheaply made buildings in Philly resemble. It's a personal catalog of tools that are harnessed by oppressors to futher their goals of gentrification and displacement, as well as the echoes of what new construction has taken from our communities.

Warning Barrier
2021 50" x 30"
Cotton, Monofilament, Cement, Metal Poles
304-308 II
2022 1.5' x 2.5'
Tyvek, Polyester, Thread, Found Materials
Legos
2021 5' x 3'
Collected Laundry Sheets, Cotton Thread, Metal Bar, Butterfly Clips

Lillith
2019 53" x 6"
Cotton, VHS Tape

Tested
2021 17.5' x 1'
Metal Zip Ties, Monofilament

Landed
2019 36" x 16.5"
Nylon Rope, Cotton
Barrier
2020 39" x 32"
19 Gauge Wire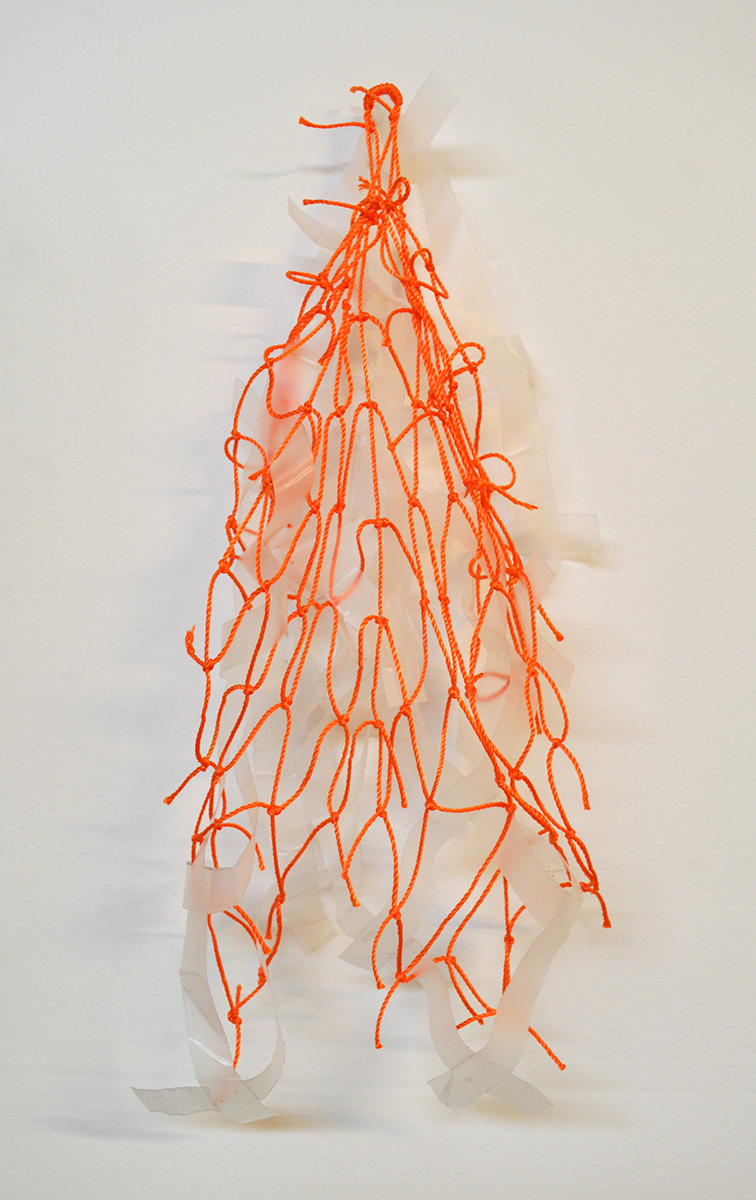 Dwell
2020 19.5" x 8.5"
Nylon Rope, Tape
Payment
2020 21" x 27"
Plastic Straws, Zip Ties
Examination of the act of care and maintenance by collecting and memorializing ephemera from former sites of home and the acquiring, transforming , and/or recreating of objects that lead to personal gain at the sake of others.

Slab
2022 4' x 2.5'
Wool, Monofilament
Legos II
2021 Variable Sizes
Paper Pulp, Plaster
Scint
2022 29" x 22.5"
Metal Bar, Cotton, and Wire
Domb
2020 Top: 3.5" x 9" Bottom: 2.5" x 7"
Acquired Metal Grids, Wool Roving, Thread

Landmark
2021 Variable Sizes
Glass Bricks, Mortar

Synchro
2021 17" x 26.5"
Vinyl, Gesso
Worm
2019 48" x 40"
Wool, Packaging, Faux Silk, Acquired Sign Post
Touched
2019 15" x 12"
Cotton, Headphones, Electrical Casing
Worm II
2021 25" x 18"
Wool, Faux Silk, Acquired Sign Post, Mortar
304-308
2020 21" x 8"
Wool, Plastic Netting, Faux Silk
Grigos
2020 16" x 4"
Acquired Metal Grid, Wool Roving, Thread

Calliper
2018 38.5" x 3.5"
Canvas, Metal Clip